Sports Scholarships in Australia: All You Need to Know
Sports and education have for a long time been combined and for many aspiring athletes, the dream of pursuing both simultaneously can become a reality through sports scholarships.
In Australia, a land known for its sporting excellence, sports scholarships offer a pathway to excel in both academic and sporting success.
In this blog post we'll explore the world of sports scholarships in Australia, explaining what they are, how to apply and where to find them.
Understanding sports scholarships: What is a sports scholarship?
Sporting scholarships in Australia are financial programs offered to talented athletes to help them pursue higher education while continuing to excel in their chosen sport.
These scholarships aim to support sportspersons in balancing their athletic and academic commitments, allowing them to represent their universities and colleges on the field or court while earning a degree.
Sports scholarships in Australia provide financial assistance, support services and a platform for participants to showcase their skills. Many universities in Australia offer academic scholarships across the country as well. To know more about academic scholarships in Australia, read our blog How to receive a scholarship in Australia.
The Australian Sports Commission (ASC) supporting and investing in sports
ASC is an Australian government agency responsible for promoting and supporting sports and physical activity in Australia. It plays a significant role in strengthening engagement in sports. Fostering excellence in international spaces by providing leadership, advancing the sports industry and delivering targeted financial support.
It's three strategic goals are:
🏀 Guide and empower the best sporting practices on the global stage
🏈 Engage a broader spectrum of Australians in sports across all levels
⚽ Drive innovation in sports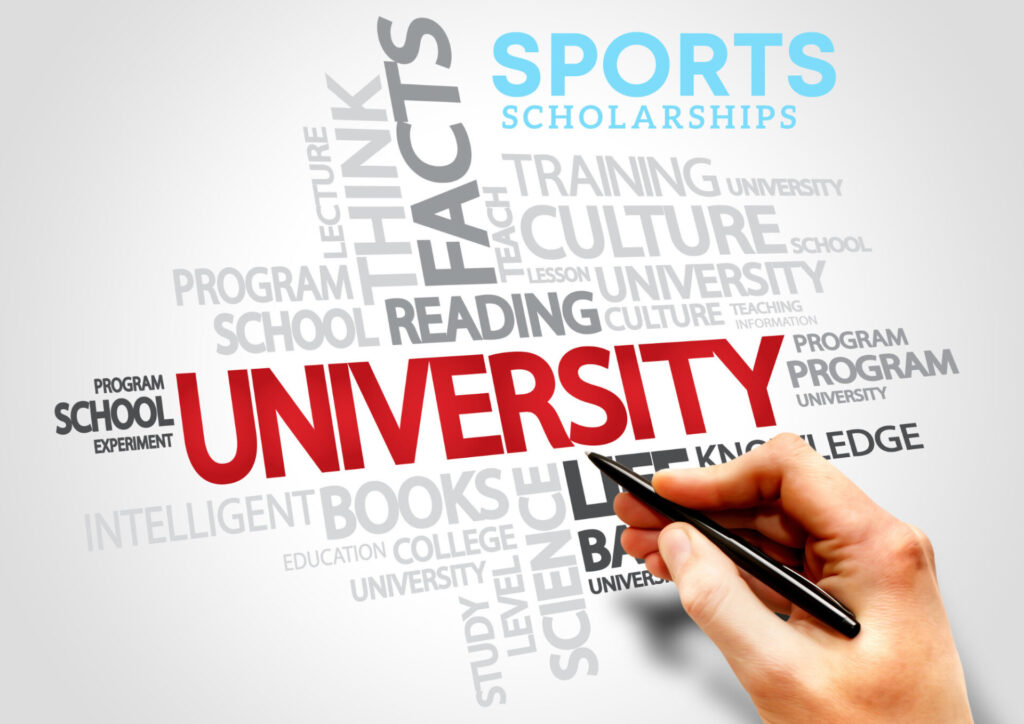 Types of sports scholarships
Sports scholarships in Australia come in various forms, catering to athletes at different levels of their sports journey. Here are some common types of sports scholarships in Australia:
University sports scholarships
Many universities offer sports scholarships to attract and support talented athletes who want to pursue higher education while competing in their sport.
They can cover tuition fees and accommodation and sometimes provide additional financial support for living expenses. University sports scholarships may vary regarding the level of financial aid offered.
High School sports scholarships
Some high schools in Australia offer sports scholarships to promising young athletes. These scholarships can provide financial assistance for school fees and may include additional coaching or training opportunities.
Elite athlete programs
The Australian Institute of Sport (AIS) is Australia's most highly regarded sports institution. It is a government-funded organisation that plays a crucial role in developing elite athletes and promoting high-performance sports in the country.
The AIS was established in 1981 and is based in Canberra, the capital city of Australia. The AIS provides various scholarships, including academic flexibility, coaching, sports science support and access to state-of-the-art training facilities.
Local sports club scholarships
Local sports clubs and community organisations may offer scholarships to talented young athletes to help them with training and competition expenses. Competitors have to be 12-18 years old to participate in state, national or international championships.
Australian universities that offer sport scholarships
The university based sports scholarship programs are part of the Elite Athlete and Performer Program (EAPP). The EAPP is designed to equip students with the necessary tools to balance their active and academic pursuits.
Australia has several universities across all states offering Elite Athlete programs. Some university's programs differ in a few points however, they keep the same principles. This blog states some general aspects of sports scholarships in Australia. For more information, visit the university website where you plan to study and compete in sports.
Examples of universities for where to find sports scholarships
Australian Catholic University (ACU)
ACU program includes benefits like academic support, financial scholarships and subsidies, flexible study options and accommodation scholarships. In addition, the athlete holds a affiliation for one of the following organisations:
-The Australian Institute of Sport
– A state institute or Academy of Sport
-A relevant national or state sporting association, of which you are a member. For instance, Cricket Australia, Diving Queensland or Victorian Football League (VFL)
-NB: The EAPP recognises Sport Australia-funded sports or sports that are on a high-performance pathway to an Olympics, Paralympics or Commonwealth Games
Australian National University (ANU)
ANU Sports is the section of the university which hosts the program for elite athletes. To access the program, the elite athlete must demonstrate a history of or potential for sporting excellence. Consequently, the sportsperson must affiliated with a club or sporting organisation. The university allows extra assistance with academic planning and financial aid to achieve the program's purpose.
Charles Sturt University 
Charles Sturt University provides support to balance a sporting career with studies. They support elite athletics and staff, including:
Australian Olympians, Professional sportspeople, Emerging elite athletes, Coaches, Referees, Elite performers.
All members of the EEAP program with the university can study their courses online. The elite athlete and performer program scholarships include admission-tailored study plans and academic support, Uni Nationals representation subsidies and access to their gyms and sports.
Queensland state university for sports scholarships in Australia
Queensland University of Technology (QUT) 
QUT offer sports scholarships for athletes competing at varying levels of sport. They are available for all study areas, undergraduate and postgraduate study levels. However, a sportsperson must be an Australian citizen with sporting excellence.
To succeed in the sports scholarship application with QUT, the athlete must be a new or continuing university student representing an Australian sports organisation with a sport recognised by Sport Australia.
NSW state university for sports scholarships in Australia
The University of New South Wales (UNSW Sydney)
UNSW university's purpose within the Elite Athlete program is to offer flexible admission and educational options for recognised elite athletes, enabling them to effectively combine their sporting commitments with their studies. Through that flexibility, athletes successfully transition to life after their sporting careers.
Remember, sportspeople must recognised by a sports organisation, similar requirements to other university with elite athletes programs to support.
How to apply for a sports scholarship 
Identify potential places to apply sport scholarships Australia
Research universities, colleges, high schools, sports institutes, and sports organisations in Australia that offer sports scholarships. Next, list institutions that align with your academic and athletic goals, then visit their websites.
Meet the eligibility criteria to make sure you succeed
Carefully read the eligibility requirements for each scholarship you apply for. Requirements may vary widely. Consider factors such as sporting achievements, academic performance, citizenship status and other specific criteria.
Prepare a detailed application and include details of your sporting achievements
Craft a compelling application highlighting your achievements, commitment and passion for your sport. Include letters of recommendation and any relevant certificates, media coverage or awards.
Maintain academic excellence to meet the entry criteria for sports scholarships
Sports scholarships often require a high academic record. Focus on maintaining good grades in your current educational program. Consider obtaining letters of recommendation from teachers or coaches to attest to your academic abilities.
Contact institutions and attend trials to highlight your sporting abilities
Reach out to the institutions you intend to apply to and express your interest in their sports scholarship programs. After applying, institutions may require applicants to attend trials or auditions to showcase their skills. Therefore, always be ready to demonstrate your skills and abilities when requested.
Submit your application to reserve a spot for the sport scholarship
Prepare all necessary documents including academic transcripts and certificates, sporting achievements and references plus include a personal statement explaining why you deserve the scholarship and others. Ensure you meet the application deadline and provide all required documents on time. Double-check your application to avoid mistakes.
Wait for notification and evaluation offers from your sports scholarships applications
Be prepared to provide additional information or attend follow-up interviews if requested. If you receive multiple scholarship offers, carefully consider each one, considering the financial support offered, academic opportunities and the level of support for your sport.
Accept the scholarship
Formally accept the scholarship offer according to the institution's instructions. Remember that the process and requirements can vary significantly from one institution to another. For this reason it's essential to do thorough research and reach out to the institutions for specific guidance on their sports scholarship application process.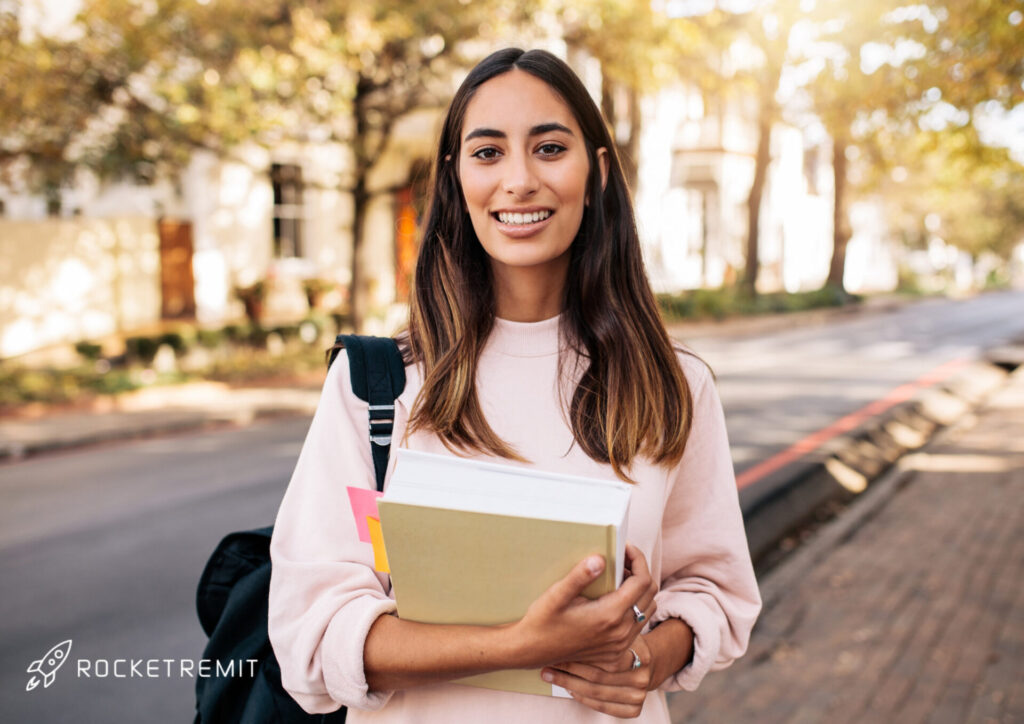 About Rocket Remit
Rocket Remit is the world's fastest international money transfer service. Send money instantly to over 50 overseas countries at very competitive rates.
Use the country selector to choose the country and check the rate.
Click here for more information on how to send money using Rocket Remit.