Will digital wallets replace cash?
The adoption of mobile payment solutions is rising worldwide and is accelerating growth in non-cash transactions. Digital wallets aren't that new – the concept has been around for over 20 years. But the question remains at which stage will digital wallets replace cash?
Newer generations have adopted digital wallets more rapidly. However, older generations still prefer the use of cash.
The pandemic has quickly changed people's mindsets, needs and preferences toward the use of digital wallets in a way that experts were once predicting would take many years.
What are digital wallets?
A digital wallet is an app, device or online service that allows customers to send, receive money and make financial transactions.
There are several different types of digital wallets. The simplest and most common digital wallet takes your physical debit or credit card and embeds or links these details in a digital wallet version. The digital wallet then encrypts your card information on your devices, including your smartphone, tablet or smartwatch. So instead of using your card or cash in your pocket, you only need your mobile phone or device to make a payment.
The card number is not stored on the device. Instead, a unique digital account number is designated to the card and the device the person is using. The payment is still physically made via your card provider and your bank.
Other digital wallets do not require a card all. These services usually hold a physical balance in the wallet. Funds are usually loaded or transferred in and our of the digital wallet via the banking system. The most common non-card digital wallet is PayPal.
Payment habits accross different generations
Different generations can be categorized and determined by the date range of their birth. These typically range across approximately 15 to 20 years.
Baby Boomer Generation (1946 – 1964)
The baby boomer generation represent a large portion of the world's current population, especially in developed countries. Born after World War II, they have had a significant impact on the economy. They are more likely to utilise cash, credit and debit cards.
Generation X (Baby Bust) (1965 – 1979)
Generation X also knows the "baby bust" generation, named for their low birth rates, is the first generation to live within a digital-first world. They expect things to be instant, and they are more likely to utilise credit and debit cards.
Xennials ( 1975 – 1985) Xennials are a "micro-generation". This small group spent their infancy without computers. Xennials had to call their friends' at their home telephone number because they didn't get their first mobile phone until they were around their 20s.
Millennials, Generation Y, Gen Next (1980 – 1994) grew up with computers and the internet. They are the largest living generation and also the most significant users of digital wallets. Millennials are very comfortable using mobile devices to make payments.
iGen / Gen Z ( 1995 – 2012 ) Gen Z wants to bank on mobile wallets; some are still very young. This generation is experiencing a pandemic that has changed the payment preferences of the entire world. Gen Z is about to eliminate cash.
And I'm not stopping there…
Another factor that influences the use of alternative payment methods is income. The higher the income, the more likely they are to use digital wallets as a means of payment.
All consumers, despite their age, are beginning to move away from traditional payment methods and toward digital payments. The reason is very simple – it's one way to avoid contact during the pandemic. This is despite very little evidence that cash can transmit COVID.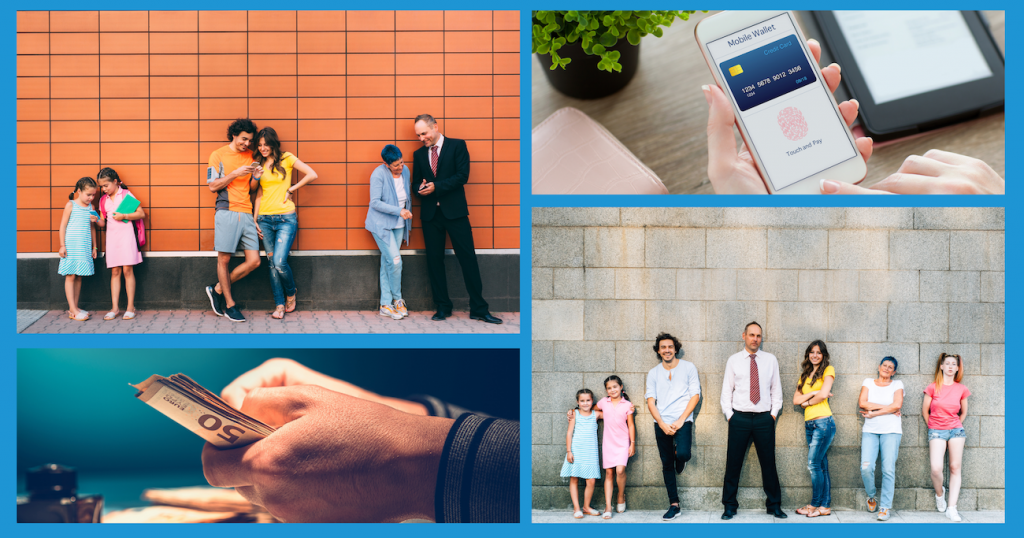 Digital wallets will replace cash in pockets
Digital wallets are becoming the most popular contactless way to pay according to new analysis from the Commonwealth Bank and have jumped more than 90% in the last year.
The main factor driving the growth of digital wallets is COVID. The COVID-19 pandemic has reshaped the opinions and needs of digital payments and accelerated it's adoption.
Digital wallets have benefited dramatically since the start of the pandemic. Those who had security fears have left them behind in order to adopt the technology.
Here's the interesting part…
Cash transaction values fell steeply around the world in 2020: by 21.9%

in North America, 33.6% in Europe, 34.7% in Latin America and 36.6%

in APAC. Cash has fallen to historically low usage around the world,

representing only 5.4% of POS transaction volume in Canada, 4.5% in

Norway, 11.9% in the U.S. and less than 10% in markets as diverse as

Australia, Hong Kong and Sweden

Worldpay from FIS, The Global Payments Report 2021
Digital wallets dominating in Australia
Most Australians use Digital Payment Solutions. We are moving to a cashless society. There are many options on the market and new options will keep coming.
Some mobile wallets worldwide are not yet available in Australia such as lime Venmo.
Benefits of digital wallets
Digital wallet payment methods have been growing over the years:
– Convenience and Efficiency
– Fewer items to carry
– Organization
– Security
– Discounts and bonuses
– Lower transaction costs
Less cash when making purchases in person
The pandemic has driven a range of action changes from what customers buy to how they prefer to pay. A preference for debit payments over credit has increased as consumers begin to think about the best ways to handle money.
New Buy Now Pay Later (BNPL) offerings have also expanded to meet this need. Different offers are attempting to align to specific purchase types, consumers and budgeting preferences.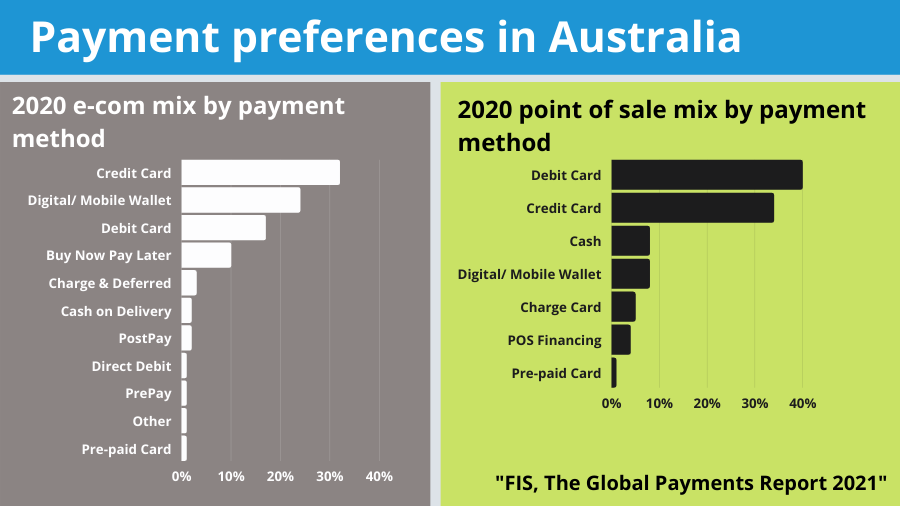 The Pros and Cons of Moving to a Cashless Society
PROS
– Less tax evasion. A cashless society would make it more straightforward
for government to reduce tax evasion.
– Easier currency exchange while travelling internationally.
– Lower crime with no physical money to steal.
– Less money laundering because there's always digital tracks.
– Less time and cost handling, storing, and depositing bills and coins.
– safer as money is securely stored in the cloud so unlike cash in a physical wallet, cannot be spent by anyone else if lost.
CONS
– Security: Exposes personal information to a possible data breach.
– Cash helps control spending. With digital money, it is easier to spend money without considering you are overspending.
– Freedom. There is a big difference between increased use of electronic payments for convenience and making it the only payment method available. Making it mandatory is in effect a form of discrimination against those who for whatever reason are unable to use a bank account or digital wallet or individuals who have personal reasons for paying in cash.
The trend toward digital payments is here to stay and while the use of cash is disappearing, it's more critical than ever to follow responsible spending practices.
Digital remittance is replacing traditional money transfer
There is no doubt that the introduction of digital remittance represents not just a new way of money transfer but also a much better way of sending money.
During lockdowns in many countries due to COVID-19, many exchange agencies and banks have found it difficult to operate under lockdown restrictions.
Mobile Money Transfer is a technology that allows you to send and receive money using a mobile phone. Money is sent directly to a mobile phone without the need for a transfer agent or a bank.
Many people who used these traditional channels have had to switch to alternative ways of sending money including online money transfer or digital remittance. Why is digital remittance replacing traditional money transfer?
About Rocket Remit
Rocket Remit is the worlds fastest international money transfer service. Send money instantly to over 45 overseas countries at very competitive rates.
Use the country selector to choose the country and check the rate.
Click here for more information on how to send money using Rocket Remit.