How to Start a Business as an Immigrant in Australia
There are many reasons why you may want to start a business in Australia. Maybe you like the lifestyle, or maybe there is an opportunity that has opened up for you. Check out how to start a business as an Immigrant in Australia.
It's not easy to start a business as an immigrant to Australia. However, with the right resources and support, you can make your dream come true. Many have done it before you and there are many success stories.
Can immigrants start a business in Australia?
The answer is yes! But…there are some limitations. For example:
– A non-resident can start a company in Australia. However, they can't do it on their own. They can do so in partnership with an Australian resident.
– In Australia, at least one director of any company must be an Australian resident.
– They are not allowed to be directors of certain types of financial institutions .
– Must not hold more than 20% shareholding in a private company. If it is not wholly owned by Australian citizens or residents.
There are specific visa options for non-citizens who want to run a business in Australia.
Business Innovation and Investment
"Migrant business owners employed 1.4 million people across Australia and had an annual revenue that was 53% higher than for non-migrant businesses. "
1. Do your research
Before starting a business, you should do some research. These are all important questions that need to be answered before making your next move.
This should be the first step before starting a business.
What is the market like? What are some common mistakes to avoid? Where will you find your customers?
There are many resources available on how to start a business such as books, networking events and websites that can provide valuable information.
Are you solving the right problem?
Who are you customers?
Who are you competitors?
What can you learn from your competitors?
The Importance of Business Plans
A business plan is a document that outlines the strategy for growth and success of an organisation. It includes the goals, milestones, and implementation strategies. Is an important and strategic tool that helps you to identify, analyse, and prioritise business goals .
It also helps in the allocation of resources (money, people and time) in order to create a competitive advantage for your business.
Let me walk you through it…
A written business plan will help you with all of this by providing an outline for the paths that are most likely to lead to success.
The plan can provide guidance on all aspects of the business and allow new staff or team members to get up to speed with what is happening within the business.
Having a business plan in place is also a good way to show potential investors that your business has thought thoroughly about their project before they invest money. Business Plan Template
2. Set up your business in Australia
Registering your business in Australia can be done online. The simplest form of business registration is a sole trader. There are no requirements or fees for registering as a sole trader – it's free! However, if you want to register a formal company, then there will be some costs. You may also require a lawyer and accountant.
To register your business, you have to meet the following requirements:
– A unique name for your business that is not already in use
– A principal place of business within Australia
– A business structure, for example sole trader or company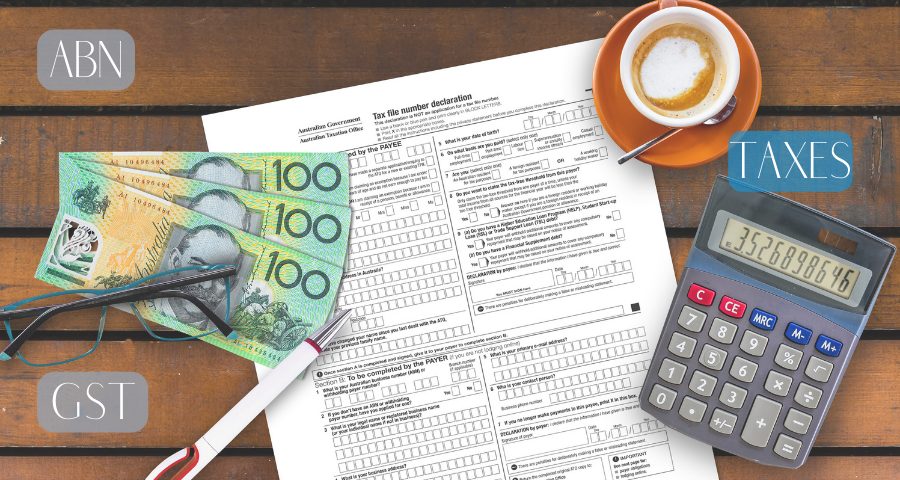 Choose the business structure
The most common business structures are sole proprietorship, partnership, limited liability company (Pty Limited), and few different types of corporations.
The decision on which entity to form should depend on the specific needs of your company.
Register for an Australian Business Number (ABN)
The (ABN) is a unique 11 digit number that identifies your business to the government and community. It is free to apply for an ABN.
Tax registration for your business
When you start a company, there are tax obligations. That is to say you need to understand which taxes apply to your business or company and how to register for them.
Register for Goods and Services Tax (GST)
Goods and Services Tax (GST) applies to most products and services in Australia. GST is charged at 10% and is paid to the Australian Taxation Office (ATO).
Support for businesses in Australia
3. Grants for immigrant entrepreneurs
Australia is a great place to start a business. If you are an immigrant entrepreneur, there are grants available to help you get started. The Australian government offers a number of grants and assistance programs for businesses, including those owned by immigrants.
Grants can provide much-needed financial assistance to help entrepreneurs start and grow their businesses
New Business Assistance with NEIS
The New Enterprise Incentive Scheme (NEIS) is a government-funded program designed to support aspiring entrepreneurs realise their dream of starting a viable business through small business training, expert coaching and income support.
Strategic Growth Loans (SGL)
Strategic Growth Loans (SGL) are flexible, direct loans to provide capital for emerging fast-growth SMEs that are scaling quickly and creating jobs in NSW.
Digital Solutions – Australian Small Business
The Digital Solutions grant works to help grow your business, and embrace you to use digital tools to save you time and money.
Business Digital Adaptation (VIC)
To Help small businesses the Victorian Government give access a range of digital business tools in other to improve their cash flow, increase productivity, increase customers, and assist them to tell their story here.
Australian Apprenticeship Priority List
The Australian Apprenticeships Incentive System provides financial assistance to employers of Australian Apprentices that secure the pipeline of skilled workers required to support Australia's economic recovery. Priority occupations are those listed on the here.
4. Starting your not-for-profit
Is a not-for-profit organisation the best way to achieve your goals?
If you are an altruistic person, you may want to create an organisation that provides services to the community and and returns profits directly to the community.
About Rocket Remit
Rocket Remit is the worlds fastest international money transfer service. Send money instantly to over 47 overseas countries at very competitive rates. Use the country selector to choose the country. Click here for more information on how to send money using Rocket Remit.
Click here for more information on how to send money using Rocket Remit.