International Christmas Food
Growing up, Christmas was always a time where my family would get together and celebrate with lots of food. This holiday season, let's embrace the diversity of cultures by enjoying Christmas cuisine from different parts of the world. International Christmas Food – Tastes Like Home!
Do you ever get homesick during the holidays? Do you miss all of the delicious food and traditions from your home country?
Christmas is when many people around the world come together to celebrate. So what better way to bring all of us together than by sharing traditional food from our respective countries?
International Christmas Food : Tastes Like Home
We know that this time of year is all about spending quality family moments with loved ones, and we wanted to make sure you have an easy way to do so in your kitchen. Check out these delicious dishes that you can cook in Australia from around the world.
The most popular Christmas foods from the Philippines
In the Philippines, some of the most popular dishes are:
Sinigang na Lechon, a tamarind soup made from pork or chicken and vegetables. It's typically eaten with rice and in some cases, fruit salad. This tasty dish will have you feeling like you're in the Philippines!
Biko is another popular steamed sticky rice cakes cooked in banana leaves. Pork-filled buns called "empanadas" are also eaten on this day and turon (a type of Filipino egg roll).
Empanada filling usually consists of either ground beef (pork) or seasoned fish such as tuna, shrimp, calamari or crabmeat wrapped up in dough and fried until golden brown to make it crispy.
Filipino desserts are a must-have for any celebration. Whether it's Christmas or just about anything else, Filipinos know how to put on an incredible show with their sweet treats!
Panghimagas (Filipino dessert) is served at significant events like Christmas. So they tend not only to taste good most importantly also symbolise the love between family members and friends. This shared enjoyment of one dish can create memories that last forever.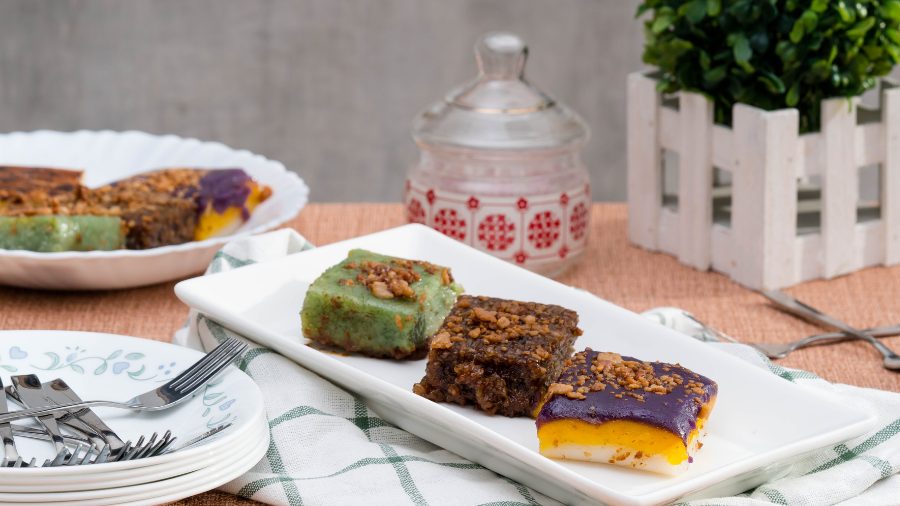 Africa has a variety of foods that are perfect for Christmas
If you're looking for the best Christmas food to celebrate your holiday with friends and family, look no further than Africa!
That is to say, there are so many delicious African dishes that you can choose from. You'll find many African cuisines that are very spicy and flavoursome.
Diaspora, we all have one – a place of our ancestry that we long to return to, and celebrate holidays with traditions that are dear to our hearts. Certainly Christmas is no different, and for those of African descent, there are countless amazing dishes to enjoy during the holiday season.
From sweet potato pie, sweet desserts to fragrant curries, fufu and egusi soup, Africa has plenty of delicious dishes.
We've compiled our list of favourite dishes below!
This year, try something new and celebrate Christmas with some international cuisine! From Africa to Asia, we've got a roundup of festive dishes that will transport you to far-off lands. So get ready to spice up your holiday season with some amazing flavours.
Here are some of the best Christmas foods Africa has to offer!
Jollof rice is a dish that brings together an array of cultures. The dish originated in Senegal, but has become popular across Africa and the world. It's often served with beef or lamb, vegetables, and spices.
The basics of this delicious meal are tomatoes, onions, peppers, garlic and spices like salt and pepper. But you can add anything to make it your own! And if you're not in the mood for rice, there are plenty of alternatives: plantains or cassava (a starchy root vegetable) will do just fine!
But wait…there's more
Waakye is a Ghanaian dish made with rice and beans. It's famous throughout West Africa and can be found in Nigeria, Togo, and Benin. If you're looking for something new to try or just want to experience some authentic African cuisine.
Waakye is a dish made from cooked rice and black beans. It's often seasoned with spices like ginger, chilli pepper, and salt and served with protein like chicken, beef, or fish. Waakye is worth a try if you're looking for something new and exciting to eat! (Plus it's pretty affordable too)
Nyama Choma is a dish made up of grilled meat, usually, beef or goat, seasoned with salt and other spices. It's served alongside boiled eggs on the side.
The people of Kenya love their nyama choma. Now you might be thinking to yourself, "wait! I thought there were no cows in Kenya?" There are not many cows in Kenya, but that doesn't stop them from making this delicious meal for themselves all the time.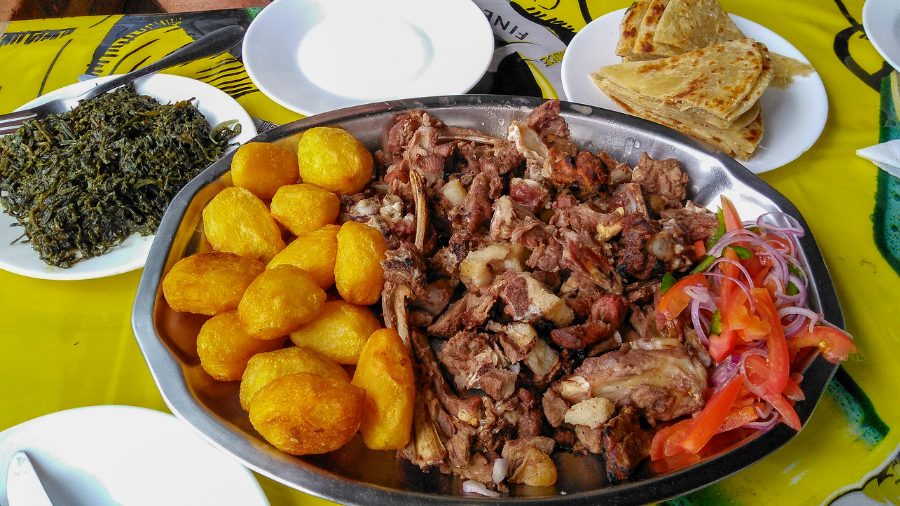 Christmas recipes from the Pacific Islands
Christmas in the Pacific Islands is a culinary delight! From spicy missionaries' stew and savoury pork to sweet coconut bread and sticky desserts, these recipes will transport you right to the heart of the Pacific Islands.
Did you know that there is a delicious little-known dish from the Pacific Islands that features roasted pig?
If you've never had roasted pig, then you're missing out! This dish is a Pacific Island favorite, and it's sure to please everyone at your dinner table.
Roasted pig is cooked with a delicious salty-sweet sauce. It's perfect for parties or large gatherings. The combination of sweet and savoury flavours is irresistible!
Have you ever had Pani Popo Samoan Coconut Rolls?
Pani Popo are a traditional Samoan dessert with sweet coconut meat and wrapped in a soft piece of bread. If you haven't tried them yet, you're missing out! They're the perfect sweet treat for any occasion. Plus, they're really easy to make.
There's nothing like the taste of Samoa to take you away to a tropical paradise. These coconut rolls are one of my favourite Samoan recipes. I know you'll love them!
Pista badam burfi Is there anything better than a tasty, sweet treat? Especially when that treat is homemade and unusually flavorful? This pista badam burfi recipe is just the thing to satisfy your sweet tooth. The combination of pistachios and almonds makes for a unique and tasty flavor profile that will have you coming back for more. Badam Pistaz Barfi (Fijian Hindu Nut Candy)
Lovo food is a dish that was made to represent the stars in the sky. It's been around for centuries and is traditionally eaten at Christmas on December 25th.
Lovo food consists of meat, vegetables, rice, and other dishes all wrapped up in banana leaves and cooked underground in an earth oven called a hangi. The result is a delicious meal that will make you feel warm inside while also feeling connected to your culture's traditions!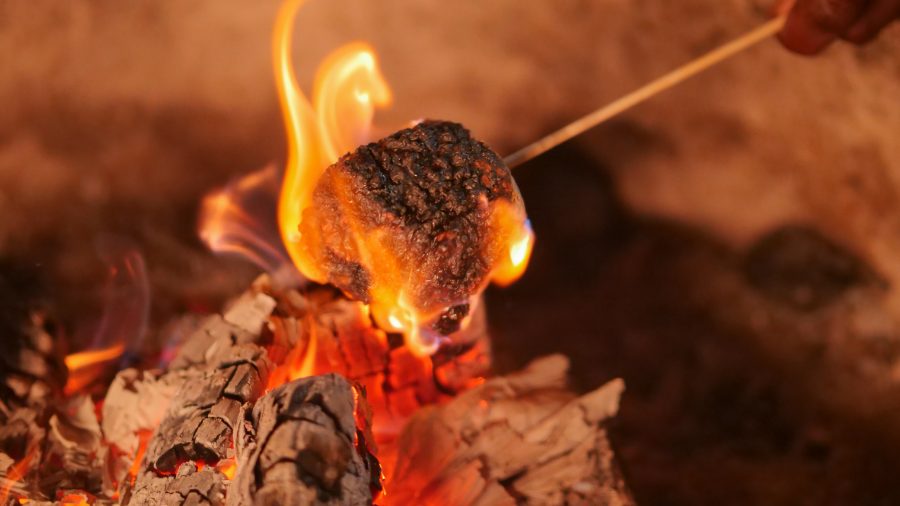 And now, you're thinking…
Christmas is a time for family, friends, and plenty of food. What dish are you making this year?
What are your thoughts on the best dish to make during the holidays?
Do you have any favorite recipes or traditions that take place at Christmas? Share them with us! we would love to hear from you!
About Rocket Remit
Rocket Remit is the worlds fastest international money transfer service. Send money instantly to over 48 overseas countries at very competitive rates.
Use the country selector to choose the country and check the rate.
Click here for more information on how to send money using Rocket Remit.