How to Transfer Money Instantly to Paytm Payments Bank India
Paytm Payments Bank has been created to help achieve financial inclusion in India, but how do you Transfer Money instantly to Paytm Payments Bank in India? First you need to have an activated Paytm Payments bank account to receive money transfers from overseas. So make sure your beneficiary has an activated Paytm Payments Bank account.
Some people are confused between having Paytm and having an account with Paytm Payments Bank. To receive international remittance, make sure your beneficiary has an account with Paytm Payments Bank.
Let me break this down for you…
Electronic payments in India have never been more accessible and convenient. A Payments Bank is a bank model created by the Reserve Bank of India which offers limited banking services including Debit Card, Online Banking and Mobile Banking but cannot offer a full range of financial products (e.g. they cannot offer loans or credit).
Although some people use traditional banks to send money to their loved ones, more people now choose to use instant transfer services using Payments Banks. Let me tell you why, but first, let's talk about how to open a Paytm.
Paytm
Paytm stands for (Pay through mobile). It's India's largest mobile payments platform with over 350 million active users. Paytm is a digital mobile payments platform that lets people load cash into the integrated wallet via online banking, debit cards, credit cards, or even deposit money via supported banks and partners.
But Paytm is no longer just a payment platform. The app provides shopping, transportation, city services, medical services, credit services, wealth management.
Paytm can be used to topup mobile phone credit, metro cards, DTH cable, data cards, bills payment, booking tickets for buses, trains, flights, movies or pay for hotels. You can also buy goods on the Paytm website using the wallet.
What is a Paytm Wallet?
The Paytm wallet is a digital e-wallet that can be used just like a regular wallet. The main benefit of a Paytm wallet is that you can make payments digitally. Instead of using cash, you can make transactions with your Paytm wallet which is safer and more convenient.
You can use any debit or credit card to load money into your Paytm wallet. You can also transfer money to a bank account.
What is a Paytm Payments Bank account?
A Paytm Payments Bank account is the full banking version of Paytm. It has extra features which let users can access everything just like a regular bank. The service is similar to those of traditional banks but everything is online.
With a Paytm Payments Bank account, you will also receive a virtual debit card. You can transfer money to other banks, withdraw cash at any time, make transactions and receive money from overseas.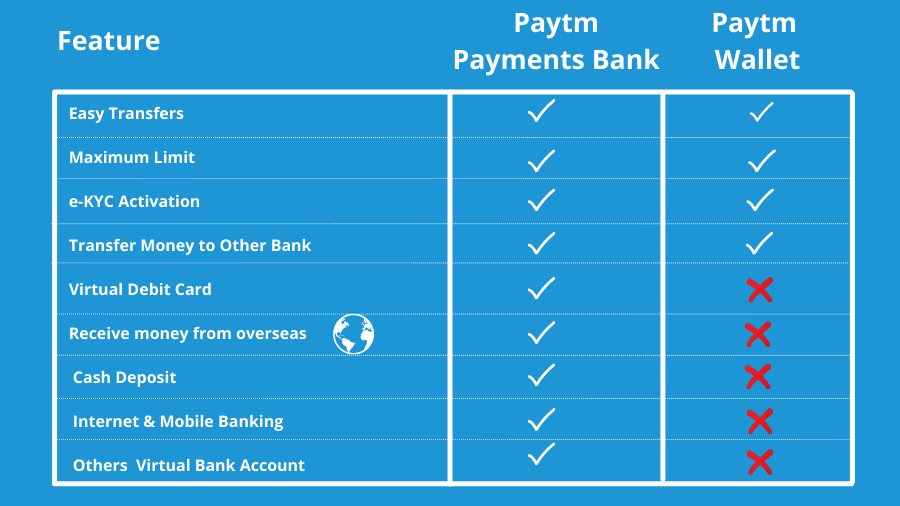 Opening a Paytm Payment bank account:
Activating the Paytm Payment Bank account is very simple with these five simple steps:
How long does a bank transfer to India take?
Some Indian people prefer to transfer money to a bank account in India because they feel it is the safest and most reliable way to send money. Maybe it's also because they're more familiar with that system. But how long does an international bank transfer to India take?
In India, there are 34 banks; 12 public and 22 private. It usually takes 3 to 7 business days to process an International Money Transfers (IMT) – the way money is transferred to a bank account in a foreign country.
Why do bank to bank transfers take so long? Why do transfers between some banks take longer than others? What's behind the transfer and is there any way to speed up the process? Check our our previous blog How long does a bank transfer take?
Send Money to India with No Fees and Great Rates
Rocket Remit is the fastest and easiest way to transfer money from Australia to Paytm Payments Bank India. Whether you are sending money for friends, family, charity, social or religious reasons. You can trust Rocket Remit to transfer your money for NO fee and great FX great rates.
Which countries have large remittances?
Big sending countries and regions include the US, the UK, Europe, Singapore, Australia and the UAE. The countries with the largest inward remittance flows include Mexico, India, China, Pakistan, Bangladesh and the Philippines.
Why are remittances essential for the global economy? Money sent home through remittance is used for everyday household expenses such as food, medical treatment, education, clothing and other bills.
In our region of Australia, many Pacific Island nations also heavily rely on remittance. For example, for Samoa, almost half of the population live outside the country and send money home.
With Paytm your money is always safe
How to Transfer Money Instantly to Paytm Payments Bank India
Rocket Remit will send money anywhere in India. We transfer money to PayTM payment bank mobile money wallets which means you can send money across the whole of India.
Send money to pay bills, buy top-up or cash out at one of the thousands of PayTM payment bank agents or ATMs. It's so simple! To receive money, the recipient must have a PayTM payment bank account and there are NO FEES for sending money from Australia to India
About Rocket Remit
Rocket Remit is the worlds fastest international money transfer service. Send money instantly to over 38 overseas countries at very competitive rates.
Use the country selector to choose the country and check the rate.
Click here for more information on how to send money using Rocket Remit.